An afternoon at the Sfriso Winery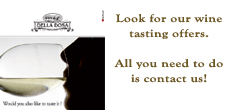 Come and discover the scents of our land, the elegant flavors of our food and wine.
A special experience for those who stay at Casa di Paola. The promotion includes the following services:
A Visit to our Winery and vineland

Tasting of our wines. The tasting is accompanied with typical Venetian dishes: cheese, cold cuts, regional and seasonal specialties , authentic specialties chosen by us for an unforgettable combination of food and wine.
The price is € 10.00 per person deductible from the purchase of our wines. Please make sure to reserve first.